The regular deadline for the payment of Texas Quiz Bowl Camp fees (without penalty) has been extended for ALL campers to Thursday, June 9th. Please sign up as soon as possible if you wish to be a camper.
Our 2016 camp facilities at the University of Texas at Dallas has allowed us to offer a day camp option for students. Students who choose to participate as day campers will participate in all regular campers, but will not say overnight. A $100 discount is available for students who choose the day camp option.
Students may register for camp at the following links:
Session A Registration (July 17-July 23)
Session B Registration (July 24-July 30)
Here is the basic information for our 2016 Texas Quiz Bowl Summer Camps. You can register via this online form.
Sessions
Session A: July 17-23 (suggested for high school students*)
Session B: July 24-30 (suggested for middle school students*)
*Any student can attend either session (or both)
Location
Residence Hall West at the University of Texas at Dallas
Fees
Base Fee: $725
Sibling Discount: -$50
Both Sessions Discount: -$50
Day Camp Discount: -$100 (9 a.m. through 9 p.m. daily)
Extras
Extra Course: +$75
Bonito Study Guides: $60 each or $160 for all three (Science, Social Studies, and Literature)
Available Courses (Projected)
Art, American History, Beginners Humanities, Beginners Science, Biology, Classics, Poetry, European History, Latin America, Physics, Religion & Culture, Social Studies, World History
Texas Quiz Bowl is accepting applications for counselors for our 2016 Quiz Bowl Camps. Please email cromero-at-texasquizbowl.org to apply. Please see this page for a list of responsibilities required of counselors.
Desired Qualifications
Session A (July 17 through July 23) Counselors:
High school graduate
Quiz Bowl veteran
Previous TQBA camp attendee
Willingness to work for both camp sessions
Session B (July 23 through July 30) Counselors:
High school students in grades 11 or 12 next school year
Quiz bowl veteran
Preference is given to previous TQBA Camp attendees
Attendance as a student during Session A is strongly preferred
Registration for the 2016 Texas Quiz Bowl Summer Camps will open soon.
Your camp fee includes accommodations with a private bedroom, a shared bathroom with your choice of roommate, two meals a day, a t-shirt, notebook, pencil, highlighter, binder, two of the courses (see the available list on the sidebar) with all study materials, and 30 scrimmage matches against like-skilled fellow students over six days. All daily activities are held in Tradition at Northgate luxury dorm facility.
On Sunday, Texas teams swept the top three spots at the 2014 NAQT High School National Championship Tournament (NAQT HSNCT). Austin's Liberal Arts and Science Academy (LASA) A team finished first. St. John School (Houston) finished second and LASA B finished third. It was the first time in the event's 16 year history that teams from the same state took all three top positions.
NAQT HSNCT is the most prestigious national high school quiz bowl tournament; a total of 272 teams from 37 states attended the two day competition in Chicago at the Hyatt Regency O'Hare. On Saturday each team played 10 preliminary matches against teams with similar records. On Sunday, all teams that earned a record of 6-4 or better advanced to an elimination playoff. This year 104 teams advanced to Sunday competition and the three Texas squads were the last ones standing.
Of the 12 players on the top three teams, 10 have participated in the Texas Quiz Bowl Camp in past years. All four members from LASA A (Alex Freed, Ben Jones, Arnav Sasty, and Nathan Weiser), all four members from St. John's (George Davies, Carlo DeGuzman, Claire Jones and Deven Lahoti) and two members from LASA B (Ethan Russo and Corin Wagen) have participated in previous years' camps. There are still a few spots available at the 2014 camp if your students is interested.
Camp is a seven day-six night event held at the Tradition at Northgate luxury dorm in College Station, Texas. Students participate in a variety of events each day including courses taught by professors, teachers, and accomplished quiz bowlers, lectures on study skills and the theory of quiz bowl, group scavenger hunts, nightly tournaments, and more traditional summer camp recreations like swimming, biking, frisbee, and ping pong. Please contact cromero@texasquizbowl.org for more information.
Texas Quiz Bowl is proud to announce the addition of three staff members to its camp roster:
Dr. Dennis Ugolini is the head of the Physics department at Trinity University and Texas Quiz Bowl's chief moderator. Dr. Ugolini will teach the Physics classes at the camp.
Siddarth Guha is the captain of the 2014 Regional Champion Dulles Science Bowl team and has been selected as one of the top 20 competitors in the American Biology Olympiad competition. Siddarth will be one of a pair of teachers who work with students in our Biology courses and Science Bowl Prep Sessions.
Rahul Nagvekar is the 2012 winner of the National Geography Bee. Rahul will be one of a pair of teachers who works with students on a pair of newly added Geography courses and Geography Bee Prep Sessions.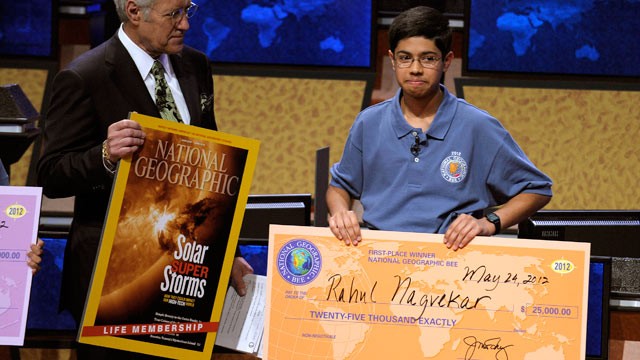 Updates have been posted to this webpage. New pages with descriptions of quiz bowl camp activities along with pages for students particularly interested in science and history have been posted. A page detailing activities available at quiz bowl for coaches has also been added.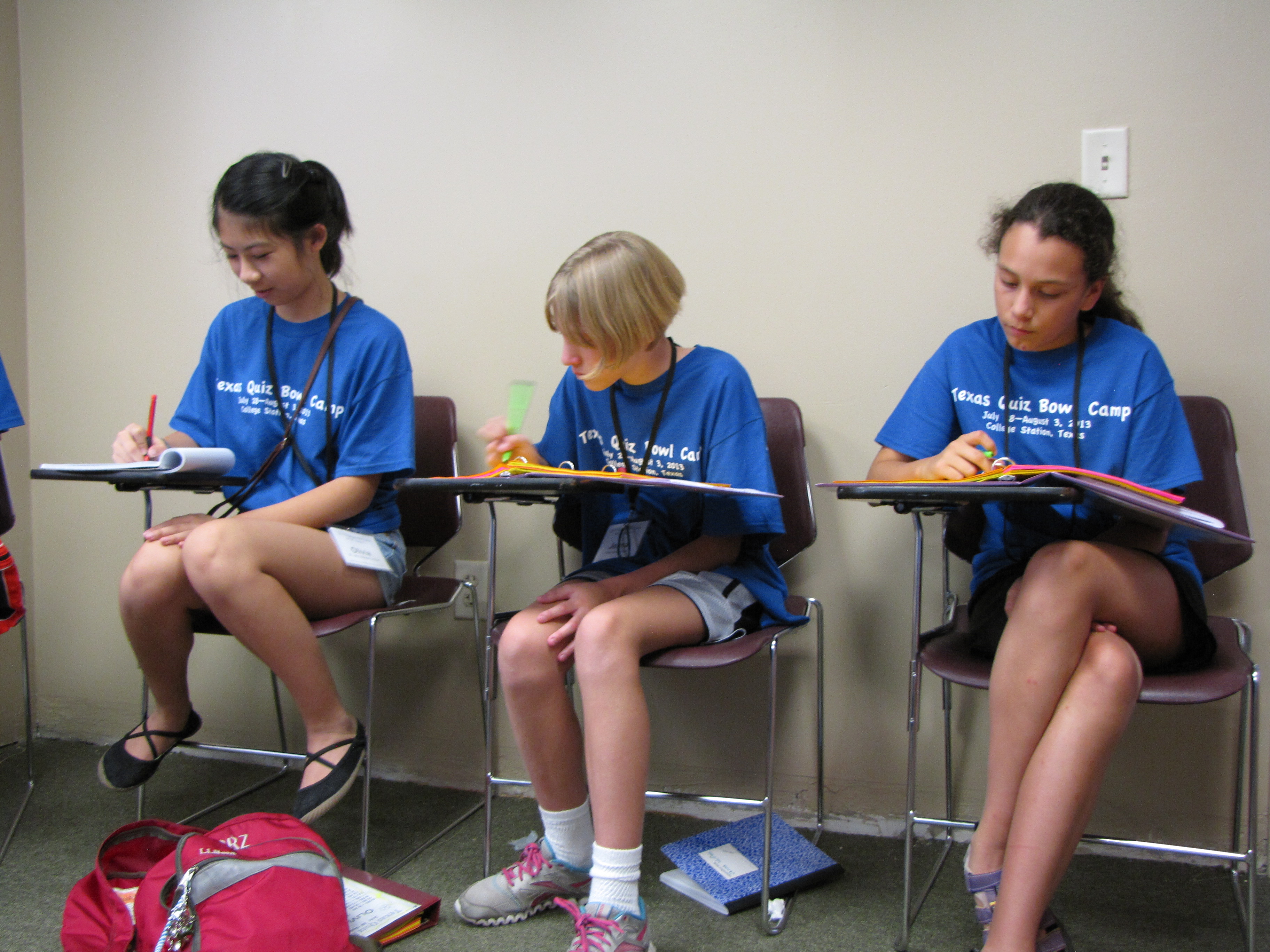 Texas Quiz Bowl has extended its last 2014 registration deadlines. The no penalty deadline is pushed back to June 1st. The late deadlines is moved to July 1st and the final deadline to July 15th. As of today 100 students are registered for Quiz Bowl Camp. We have beds available for 28 additional participants. Registration is available at this link. We may be able to request additional beds if demand exceeds 128. Please forward all questions to cromero@texasquizbowl.org.
The 2014 Texas Quiz Bowl Camp will be the biggest yet. So far 94 students have registered to attend the event; additional spots are still available. In recent news, the Economist has agreed to donate magazines for students to use as part of our daily scavenger hunts. This is a new camp activity for 2014. Please feel free to email cromero@texasquizbowl.org with any questions concerning quiz bowl camp.